What is a list-unsubscribe header?
A List-Unsubscribe header is an optional block of text that can be added to your email headers. It creates an unsubscribe button or link that recipient's can click to easily opt-out from receiving future emails.
List-Unsubscribe is used by Gmail, Outlook.com, AOL, Yahoo and others.
Email clients that support list-unsubscribe: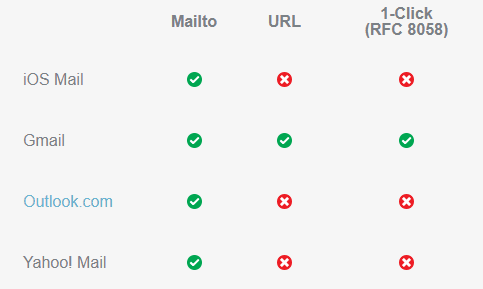 Why should you use a list-unsubscribe header?
List-unsubscribe headers are important because they allow your recipient's to easily unsubscribe from your emails. This will improve your deliverability by reducing spam complaints and keeping your list engaged with active subscribers.
Benefits of list-unsubscribe:
Keep your email list clean: Having unengaged subscribers that don't open, click, or reply to your emails will hurt your sending reputation and deliverability.
Reduce Spam Reports: According to Litmus, 50% of subscribers who wanted to opt-out pressed the SPAM button because they couldn't find the unsubscribe link.
The List-Unsubscribe functionality is controlled by the mailbox provider, if you have included it in your headers. They take care of removing that person from your mailing list.
How to set up a list-unsubscribe header
You can follow the steps laid out here by ReturnPath to properly implement a list-unsubscribe header to your emails.
A successful implementation of the header looks like this:
From: Sender XYZ <[email protected]>
To: John Doe <[email protected]>
Subject: <subject line>
Date: Fri, 17 Jul 2015 07:04:37 -0700
List-Unsubscribe: <mailto: [email protected]?subject=unsubscribe>, <http://www.exampledomain.com/unsubscribe.html>
What does the MailGenius email test tool cover with regards to SPF?
Each time you run a MailGenius test we check to see if your email contains a list-unsubscribe header.
MailGenius Tips and Tricks
We suggest using an Email Service Provider (ESP) that support list-unsubscribe headers. You can check the ESP's doucmentation or contact them directly for help. Some ESP's automatically add list-unsubscribe headers while others must be enabled manually or turned on at the campaign level.
Additional Resources